The Fifth-generation Lexus RX Hits Indian Shores At Rs 95.80 Lakh
The fifth-generation Lexus RX has recently arrived in India with a starting price of Rs 95.80 Lakh. The luxury SUV has been eagerly awaited by Indian car enthusiasts, and its launch has generated a lot of buzz in the Indian automotive market. In this article, we will take a closer look at the new Lexus RX and explore its features, design, performance, and overall value proposition.
Design
The Lexus RX is known for its sharp and angular design, and the fifth-generation model is no exception. The exterior of the SUV is characterized by a prominent spindle grille, sleek LED headlights, and a low, wide stance. The front bumper is more aggressive than previous generations, with large air intakes that give the SUV a sporty look. The rear of the RX features a sculpted bumper, integrated tailpipes, and slim LED taillights that wrap around the sides of the vehicle. The SUV sits on 20-inch alloy wheels that complement its bold design.
Inside, the Lexus RX offers a luxurious and spacious cabin that is packed with features. The SUV can seat up to five passengers, and its seats are upholstered in high-quality leather. The driver's seat is power-adjustable, and both front seats are heated and ventilated. The rear seats are also heated, making the RX a comfortable ride for all passengers. The SUV features a 12.3-inch infotainment display that can be controlled via a touchpad located on the center console. The display supports Apple CarPlay and Android Auto, and the SUV also features a 15-speaker Mark Levinson sound system that provides exceptional audio quality.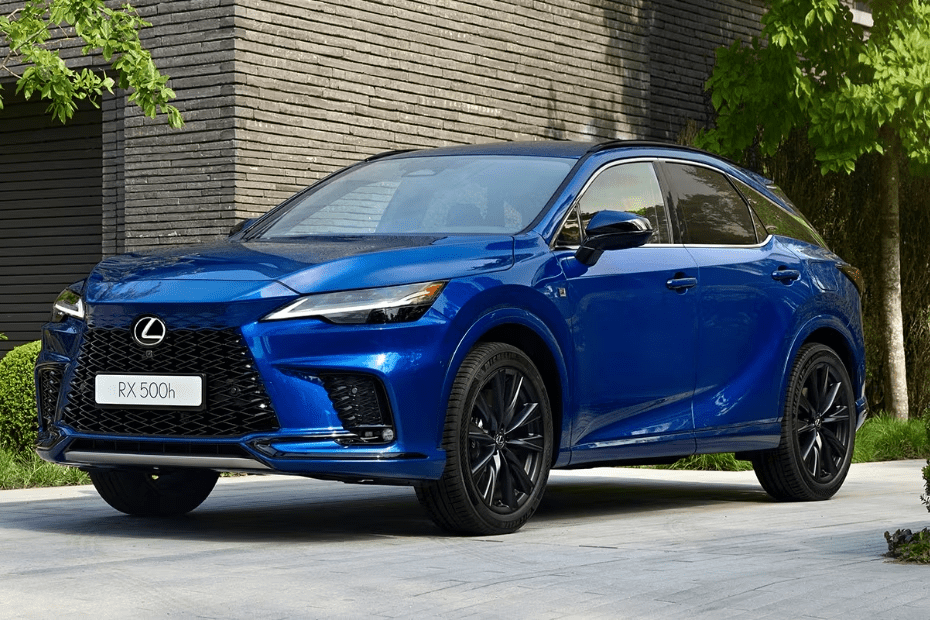 Performance
The Lexus RX is available in two engine options in India: a 2.0-liter turbocharged petrol engine that produces 235 horsepower and 350 Nm of torque, and a 3.5-liter V6 petrol engine that produces 295 horsepower and 360 Nm of torque. Both engines are paired with an 8-speed automatic transmission and are available with all-wheel drive. The RX can accelerate from 0 to 100 km/h in 7.7 seconds with the 2.0-liter engine and 7.9 seconds with the 3.5-liter engine.
The SUV features a smooth and comfortable ride, with a suspension system that provides a balance between comfort and handling. The SUV's steering is precise, and its brakes provide good stopping power. The RX also features a range of driving modes, including Eco, Normal, Sport, and Custom, that allow drivers to customize the SUV's performance to their preferences.
Safety
The Lexus RX is equipped with a range of safety features that make it a safe and secure ride for all passengers. The SUV features 10 airbags, including side-curtain airbags that protect passengers in the event of a rollover. The SUV also features a range of driver assistance technologies, including lane departure warning, forward collision warning, automatic emergency braking, adaptive cruise control, and automatic high beams. These technologies provide an extra layer of safety and help drivers avoid accidents.

Value Proposition
The Lexus RX is a premium SUV that offers exceptional value for its price. The SUV's design, performance, and features make it a strong contender in its segment, and its reputation for reliability and quality make it a good long-term investment. The RX's competitors in India include the BMW X5, Mercedes-Benz GLE, and Audi Q7, but the Lexus SUV offers a unique combination of luxury, performance, and safety features that sets it apart from its rivals.

Conclusion
The fifth-generation Lexus RX has finally arrived in India, and it has lived up to expectations. The SUV's bold design, luxurious interior, and smooth performance make it a strong contender in the premium SUV segment. The RX's safety features and reputation for quality and reliability