Hyundai Reveals the Exter and Opens Bookings for Its Tata Punch-Rivaling SUV
The competition in the Indian subcompact SUV segment is about to heat up as Hyundai, one of the leading automakers in India, recently unveiled its much-anticipated SUV called the "Exter." With this bold move, Hyundai aims to take on its rivals, particularly the Tata Punch, which has gained significant popularity in the market. The Exter showcases Hyundai's commitment to innovation, design excellence, and advanced technology. This article will delve into the key features, specifications, and expected impact of the Exter in the Indian automotive market.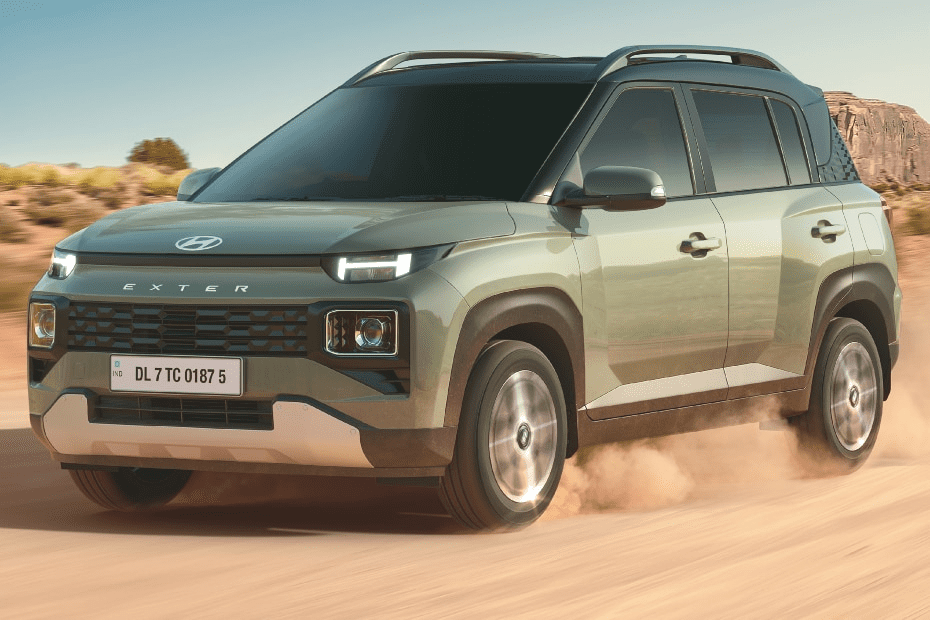 Design and Exterior Features : The Hyundai Exter presents a captivating and muscular design language that reflects Hyundai's modern aesthetics. The front fascia boasts a bold grille, sleek LED headlights, and a sculpted bumper, giving the Exter a commanding presence on the road. The dynamic character lines and flared wheel arches enhance its sporty appeal, while the roof rails and alloy wheels add a touch of sophistication. The rear design features LED taillights, a prominent rear spoiler, and a sculpted tailgate, providing a cohesive look to the SUV.
    2. Interior and Comfort : Step inside the Exter, and you'll find a spacious and premium cabin that offers comfort and convenience. The dual-tone color scheme, high-quality materials, and attention to detail create an inviting atmosphere. The well-designed seats provide ample support, and the ergonomically placed controls ensure a driver-centric experience. The Exter is expected to come equipped with advanced features such as a touchscreen infotainment system with smartphone connectivity, automatic climate control, keyless entry, and a multi-function steering wheel. Additionally, ample storage spaces, including a generous boot capacity, will cater to the practical needs of the occupants.
   3. Performance and Powertrain : Under the hood, the Hyundai Exter is likely to offer a range of powerful and efficient engine options. While the exact details are yet to be confirmed, it is expected that Hyundai will provide both petrol and diesel engine choices. The petrol variant may come equipped with a 1.2-liter naturally aspirated engine, delivering a balance between performance and fuel efficiency. On the other hand, the diesel variant could feature a 1.5-liter turbocharged engine, providing robust power and torque for a thrilling driving experience. Hyundai is also expected to offer manual and automatic transmission options to cater to different preferences.
4. Safety and Technology : Hyundai has always prioritized safety, and the Exter is no exception. The SUV is anticipated to come equipped with advanced safety features to ensure the well-being of passengers. This may include multiple airbags, anti-lock braking system (ABS) with electronic brake-force distribution (EBD), electronic stability control (ESC), rear parking sensors, and a reverse camera. Hyundai may also incorporate modern driver-assistance technologies such as lane-keeping assist, blind-spot monitoring, and forward collision warning.
In terms of technology, the Exter is likely to offer a host of innovative features. The touchscreen infotainment system will provide seamless connectivity options, allowing occupants to access their favorite apps, navigation, and entertainment on the go. Integration with smartphone platforms like Apple CarPlay and Android Auto will enhance the user experience. Additionally, the Exter might feature a digital instrument cluster, wireless charging, USB ports, and voice recognition for a futuristic and convenient driving experience.
5. Pricing and Competition : While the exact pricing details of the Hyundai Exter are yet to be announced, it is expected to be competitively positioned to challenge its rivals in the subcompact SUV segment.