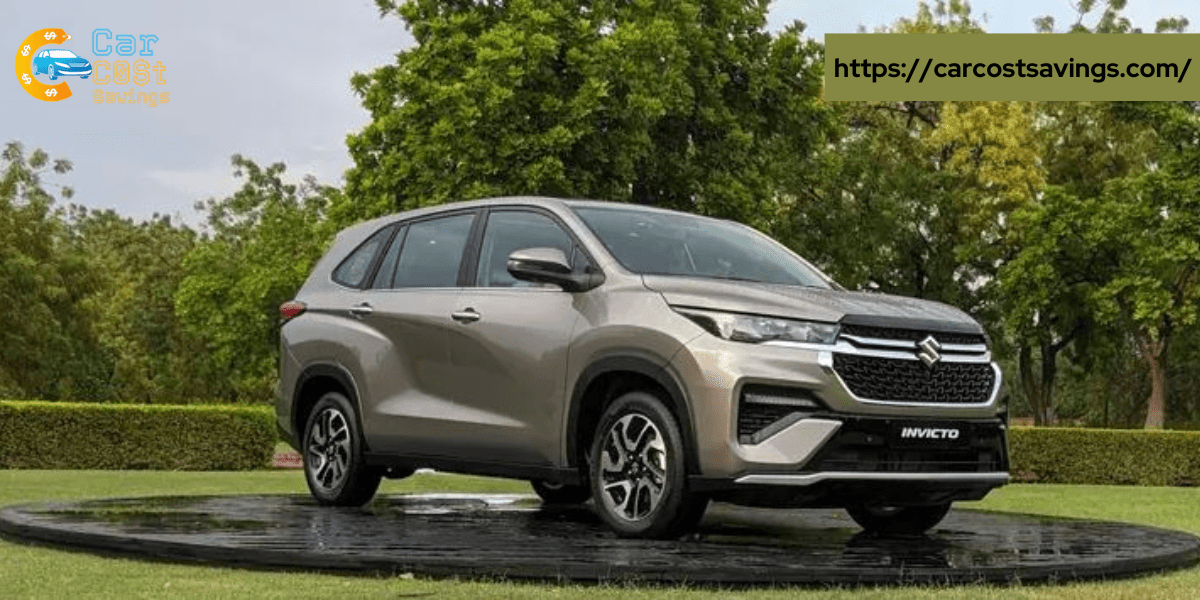 Maruti Suzuki Invicto Alpha+: Unveiling the Enhanced Features Over the Zeta+
Maruti Suzuki has been a dominant force in the Indian automotive market, consistently delivering reliable and feature-packed vehicles. In its lineup, the Maruti Suzuki Invicto Alpha+ stands out as a premium variant with an array of advanced features. Building upon the strengths of the Zeta+ model, the Invicto Alpha+ offers an elevated driving experience, enhanced comfort, and added convenience. In this article, we will explore the notable features that make the Maruti Suzuki Invicto Alpha+ a compelling choice for those seeking a luxurious and technologically advanced driving experience.
Exterior Enhancements: The Maruti Suzuki Invicto Alpha+ showcases a stunning exterior design that exudes elegance and sophistication. The front fascia is accentuated by stylish LED projector headlamps with integrated LED DRLs, providing enhanced visibility and a distinct look. The chrome grille adds a touch of class, while the electrically foldable ORVMs with integrated turn indicators and the chrome door handles contribute to the overall premium appeal. Additionally, the Invicto Alpha+ is equipped with stylish alloy wheels that enhance its visual presence on the road.
Luxurious Interior: Step inside the Maruti Suzuki Invicto Alpha+, and you'll be greeted by a well-appointed and luxurious cabin. The dual-tone black and beige interior theme exudes a sense of refinement. The leather-wrapped steering wheel and leather upholstery elevate the comfort and aesthetics of the cabin. The Invicto Alpha+ also offers ample legroom and headroom for all occupants, ensuring a comfortable journey even on long drives. The 60:40 split rear seats add versatility by allowing for flexible storage options to accommodate both passengers and cargo.
Advanced Infotainment System: The Invicto Alpha+ is equipped with an advanced SmartPlay Studio infotainment system, offering a host of features to enhance your driving experience. The 7-inch touchscreen display provides easy access to various functions, including navigation, music, and connectivity options such as Apple CarPlay and Android Auto. With the advanced voice recognition feature, you can control various functions hands-free, ensuring a safer and more convenient driving experience. The system also supports Bluetooth connectivity and USB inputs for seamless audio streaming and device integration.
Convenience and Safety Features: Maruti Suzuki has equipped the Invicto Alpha+ with an array of convenience and safety features to enhance the overall driving experience. Keyless entry and push-button start provide ease of access and added convenience. The automatic climate control system ensures a comfortable cabin environment, while the rearview camera aids in parking and maneuvering in tight spaces. Safety features such as dual airbags, ABS with EBD, rear parking sensors, and seat belt reminders are included to prioritize the safety of all occupants.
Performance and Efficiency: Under the hood, the Maruti Suzuki Invicto Alpha+ retains the reliable and efficient powertrain of the Zeta+ model. It is powered by a fuel-efficient 1.2-liter K-Series petrol engine that delivers a balanced blend of performance and economy. The engine is mated to a smooth-shifting manual transmission, providing a seamless driving experience. With its refined engineering and optimized fuel efficiency, the Invicto Alpha+ offers a satisfying balance between power and economical operation.
Enhanced Ownership Experience: Maruti Suzuki is renowned for its extensive service network and commitment to customer satisfaction. Owning the Invicto Alpha+ means benefiting from Maruti Suzuki's widespread service centers, ensuring easy access to maintenance and after-sales support. Additionally, Maruti Suzuki's reputation for reliability and affordability contributes to a hassle-free ownership experience, further enhancing the appeal of the Invicto Alpha+.
Conclusion: The Maruti Suzuki Invicto Alpha+ takes the already impressive features of the Zeta+ model and elevates them to new heights. With its stylish exterior, luxurious interior, advanced infotainment system, convenience and safety features, balanced performance, and enhanced ownership experience, the Invicto Alpha+ is a desirable choice for those seeking a premium driving experience. Maruti Suzuki continues to demonstrate its commitment to meeting the evolving needs of customers, delivering a vehicle that combines style, comfort, and advanced technology. With the Invicto Alpha+, you can enjoy every journey with the utmost luxury, convenience, and peace of mind.